PLEASE USE ONE OF OUR FORMS FOR REGISTRATION APPLICATIONS
THEY ARE FOUND ON OUR FORMS PAGE HERE:
FORMS
If you wish to send your registration application via email please use the following procedure:
Fill out the PDF form found here:
http://www.pshr.com/app_front.pdf

PLEASE FILL OUT THE FORM IN ALL CAPITAL (UPPER CASE) LETTERS.


After you have filled out the application form save it to your computer and then attach and email it to
info@pshr.com
Alternatively, you may choose to send it from the PDF file as follows:
Choose the envelope in the top left of the PDF file as shown below: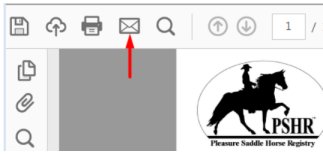 Send
a copy of the entire
PDF file, including your changes as an email attachment to
info@pshr.com
.
Also, please send us all markings written out to the above email address.
If the horse has no markings please send an email and indicate there are no markings.